MAMIJUX® Mom small chain bracelet
9,95€
MAMIJUX® Mom bracelet is a graceful bracelet dedicated to mothers. It is a perfect gift for any occasion.
The design is refined. It is made of steel and consists of:
– steel bracelet measuring 18 cm, with a second hole at 16.5 cm
– round button with a diameter of 1.1 cm with the word "Mom" on one side and the MAMIJUX logo on the other
The bracelet is presented tied to a 7×7 cm colored card inside a PVC pouch.
Related Products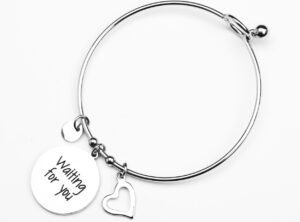 MAMIJUX® Bangle Bracelet Waiting for you
The MAMIJUX® "Waiting for you" bangle bracelet is dedicated to future moms who are living one of the important and magical moment of their life.
It is made of steel and its features are:
– steel bangle bracelet -6cm diameter
– 2.5 cm round charm with the writing "Waiting for you" and the other side an "Angel"
– two small charms, one with a heart shape, the other rounded with MAMIJUX logo
The bracelet is sold in a white organza bag.
The bracelet in the bag are put in a paper box 7x7x3cm, with the same writing and icon of the bracelet.
The beautiful box makes it a perfect gift.
25,90

€
Add to cart