MAMIJUX TAG Bracelet "fashion MOM"
22,00€
The MAMIJUX® TAG "Fashion MOM" is perfect nail polish, haute couture and stiletto heels. Très chic!
The MAMIJUX® TAG bracelet is made of steel. It has an engraved writing and an enameled heart.
The lanyard is made of polyester and is adjustable to fit any type of wrist.
The dimensions of the plate are 3.4cmx0.8cm.
Each bracelet is put inside a fun pack that reflects the colors of the bracelet and is placed in a refined white linen & cotton sachet. The pack size is 7x7x3cm.
Delivery times: from 2 to 5 working days.
Related Products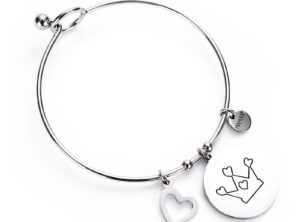 MAMIJUX Bangle Bracelet "Special Princess"
The MAMIJUX® "Special Princess" bangle bracelet is dedicated to our special people.
It is made of steel and its features are:
– steel bangle bracelet -6cm diameter
– 2.5 cm round charm with the writing "Special Princess" and the other side a "Crown"
– two small charms, one with a heart shape, the other rounded with MAMIJUX logo
The bracelet is sold in a white organza bag.
The bracelet in the bag are put in a paper box 7x7x3cm, with the same writing and icon of the bracelet.
The beautiful box makes it a perfect gift.
25,90

€
Add to cart