MAMIJUX® Light Blue Crystals Pacifier Harmony Ball
25,90€
– 1 MAMIJUX® Harmony Ball pendant (diameter: 20mm) – silver plated copper
– 1 pacifier charm covered with light blue crystals – silver plated copper
– 1 stainless steel with beads necklace (110 cm)
Description
MAMIJUX® Light Blue Crystals Pacifier Harmony Ball is a sparkling jewel dedicated to future moms expecting a baby girl.
Related Products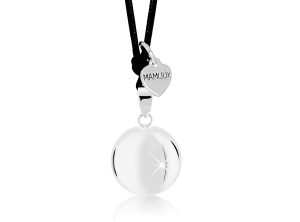 MAMIJUX® Classic Harmony Ball
M'AMI® harmony ball is a refined pendant for pregnant women, silver plated copper. Thanks to its three funny colored lanyards, moms can enjoy changing the colors of the lanyards depending on their clothing, the sex of their baby or simply on their mood.
Each box contains:
1 MAMIJUX® harmony ball pendant (diameter: 20mm), silver plated, tied to a black lanyard
1 little heart charm with MAMIJUX® logo
Two other lanyards in two different colors: baby-blue and fuchsia (110 cm each).
The beautiful box makes it a perfect gift.
Delivery time: 2-5 working days.
19,90

€
Add to cart